The Morton West Club Fair: Extracurricular Energy!
For the forgetful, absent, or curious, here are some of the highlights of the Morton West Club fair!
On August 25th, a plethora of clubs set up tables and sent representatives down to the Great Room during supervisory periods to share the good news at Morton West this year:  clubs are back in action for 2022, and some of the offerings are more exciting than ever.
Students of each grade were invited to personally meet members of the present clubs and learn a little about them. For students who couldn't make it, a listing of clubs with their respective meeting places, days and times is available here, but for those who attended, a couple of clubs were truly distinct during attendance. Here are a few who truly stood out.
JSA:  Perhaps one of the biggest and most well known clubs, the JSA, or Junior Statesmen of America, is a national club focused on debate and political involvement. According to club representatives, JSA is open to everyone, as political know-how and debate skills are not necessary to join: the main point of the club is not to flaunt these skills, but to better them. Large, mid-year debate meets with other schools and a possible trip to D.C. to meet with members of government ensure you will not only learn to debate politics, but also actively engage in it.
JSA Remind: @jsa202220
Morton West JSA Instagram: @mortonwestjsa
Official JSA Instagram: @midwestjsa
Meeting Details: Freshman Café @ 3:30-4:30 on Thursdays
Science Club: A growing and welcoming club, Science club is for students interested in the world around them in every way. Science Club spans across many different fields, including but not limited to: Biology, Psychology, and Physics. Don't be dissuaded by any tedium you may face in your chemistry class. Being in science club means you'll be dissecting animals and learning how lie detectors work through experimentation. Club representatives claim that a zip line field trip has already been confirmed, in case any members want to test the properties of gravity, acceleration, and velocity! If you want to learn how the world around you works – and have fun doing it – join before you miss out on something big!
Science Club Remind: remind.com/join/jsmsciclub
Meeting Details: S216 @ 3:15-4:00 on Wednesdays
Farm to Table: Whether you want to be self-sufficient and live off the land, save some money, or just get your hands dirty, Farm to Table is a club that offers you experience with farming, cooking, and self-betterment. In this club, you'll learn not only how to plant seeds and grow them until harvest, but how to get them not just to the table, but to the plate! If you're interested in learning how to put food on your own plate, or just to feel the satisfaction of eating a meal you cooked and grew, you should join while you still have time to sow your seeds!
Meeting Details: S214 @ 3:15-4:00 on Wednesday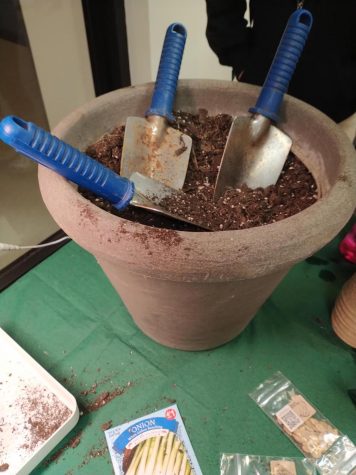 Snowball: Do you want to help spread kindness around the school? Do you think that it could be better, but not much is happening? Snowball is a way to directly make a difference. Currently, the club focuses on taking anonymous messages from students and sending them to teachers. Even if you don't want to join right now, you can send a message yourself by getting in contact with the club. The club also plans to hold fundraisers for school events, as well as supporting them in general
Teams Link: CLICK HERE!
Meeting Details: M240 during Connection Time on Thursdays
Cultural Diversity Club: Are you interested in experiencing other cultures? Do you want to hang out with old friends and make some new ones in an exciting environment? Do you just like eating food? Cultural Diversity Club has got you covered on all these bases and more! By joining this club, you'll have the opportunity to go on field trips to museums and other sites of cultural interest, throw parties where scores of food from varying cultures are eaten, and enrich yourself and your community through the celebration of others' heritages.
Cultural Diversity Club Teams: 1gj2ghl
Instagram: @mwest_cultural_diversity
Meeting Details: S247 @ 3:15 on Tuesdays