Ashley Ortiz, Band Geek Engineer
Ashley Ortiz is a senior at Morton West High School who is in her 3rd year of engineering and plans to pursue a major related to engineering after she graduates from high school. Ms. Ortiz also takes part in many clubs and activities such as NHS and band, while also taking multiple AP classes.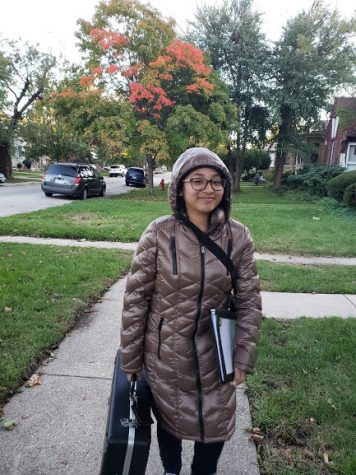 Q: Are you excited to finish high school in a couple months? 
A: Yes, because I'm planning on going to college next year.
Q:What are you thinking of doing after high school?
A:I want to pursue a major in the engineering field.
Q:Is it stressful being in engineering, NHS, band, along with taking multiple AP classes?
A:Sometimes, but it's doable.
Q:What do you do related to engineering, other than taking the class during school?
A: I've taken part in competitions, and I'll possibly be competing in two more this next year.
Q:Do you feel like a teacher to students who are taking the engineering class for the first time this year?
A:No, I don't really speak to them, but I would be able to assist if needed.
Q:Do you feel isolated being a girl in a 3rd year class for engineering?
A:Sometimes yeah, but it's not even really that big of a deal because we're all doing the same work.
Q:Do all of these clubs and activities leave you with any free time outside of school?
A:Occasionally
Q: What do you do in your free time?
A:I read, draw, sometimes work on some individual projects.
Q:How long have you been drawing for?
A: Ever since I was 4 years old.
Q:Do you feel satisfied with your past 4 years of high school? Why or why not?
A:Yes because everything I've gone through has helped me develop as an individual and will prepare me for what's next.
Q:What is your main goal for the 2nd semester of your final year of high school?
A:  To be more on top of things, like my grades and life in general.