Be My (Nike) Valentine?
Want to Look Good? These Sweet Kicks Say, "Just Do It."
The annual Valentine Day Nike drop for this year is here!  There are 6 new shoes with different colors and designs. You could compare this Valentine's Day Pack to a glass of red wine and a box of chocolates.
The Nike Air Trainer 1 combines a creamy white chocolate upper with a decadent red velvet suede lining. In addition to this rich red, there is also pink highlight throughout the leather upper of the Nike Air More Up-tempo . Featuring a white chocolate overlay, red wine suede, and a sweet pink Swoosh, the Nike Dunk Low is ready to hit the streets. The Nike Valentine's Day Pack is expected to release on February 14, 2023.
One of Morton's Senior students, Alfredo Garcia, has a few opinions about the shoes. "Personally, I don't really think that these shoes would be for me, but they offer very unique designs for valentines day. My favorite out of all them are probably the Air Force Ones with Cherry Hearts".
Alfredo has been into shoes for a couple of years and owns a good Jordan's pairs. He has a good eye for shoes, and even though he admits they're not for him, he compliments the shoes regardless.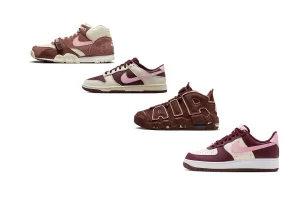 Nike air force 1 come with a cherry-hearts dangling from the outer sides and a small burgundy heart onto of the I in AIR. The whole shoe is a perfect pair for your girl or even yourself.
The Air forces displayed below don't have a date of release, and if you plan on getting a pair, you best keep your eyes peeled.  The dunks released on Feb 7, 2023 and sold out fast. Make sure you to check Nike's website regularly for any updates, if you are interested in them.