Clear book bags offered to Morton students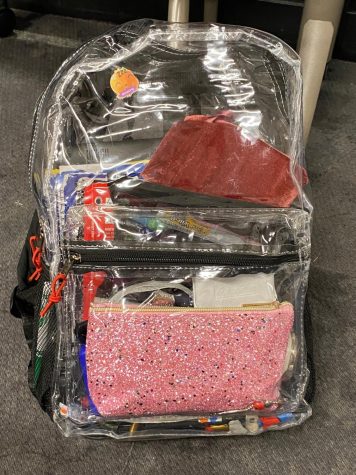 In an effort to improve school safety, Morton West High School is offering students the option to sign up to get a free clear book bag. The pilot program involves three different brands of backpacks from Liberty Bags, Bags in Bulk, and Blue Star Empire.
Precautions were put into place after December 9th and a safety meeting with parents was held on December 21st where concerns over school safety were addressed. Random classroom searches, metal detectors, stricter uniform control, and the option of using a clear book bag have been put into place. On January 8th, the school sent out a form to parents and guardians including details on clear book bags. Morton West Assistant Principal Mathew Dugan said "The reason behind the clear book bag process was to promote another line of school safety through student and family support." Morton West students will have the option to sign up and use clear backpacks at the bookstore, the clear backpacks are recommended by the school,  but not forced.
Student feedback will determine which back bag company works best for the students. "Students are randomly given a brand of book bag and provide feedback to the building about the pros and cons of each bag. This will allow us to see which one might be best for students who wish to use a clear book bag." Mr. Dugan added.
There have been conflicting opinions on clear book bags amongst students at Morton West. Marina Hernandez, a freshman states "I feel like there's no real necessity for clear backpacks after we already have metal detectors". Hernandez has used her clear book bag since it was offered in early January, since then she has found some issues with the bookbag, "The seams of it [the clear book bag] are not sturdy at all, and a lot of backpacks have broken". Some students find comfort in being able to see what is in other's student's book bags. Senior, Alexys Alvarez says "I don't really judge, whatever you have you have. It's good to know they are not carrying anything they shouldn't be because it's clear". As for the opinion of having the book bag available to students, Alvarez adds,  "I think it should definitely stay optional because especially for me I carry a lot in my bookbag, and if I were to use a clear book bag, I know it is obviously cheaper plastic because the school has to provide for all the kids and it's gonna rip. But I do also enjoy that they have incentives if you do use it so it could just be safer and more of like reinforcement for the kids."
Many students fear the possibility of clear book bags becoming mandatory with safety precautions increasing. "As of right now, there is no long-term plan for clear book bags being mandatory for all students. Any decision regarding that would include students and parent voices as well as collaboration with the district and school board," said Mr. Dugan.