Hispanic Heritage Celebration
Ms. Garcia, Ms. Reyes, Mr. Gonzalez, and Ms. Medina, along with many dedicated students, presented an impressive assembly.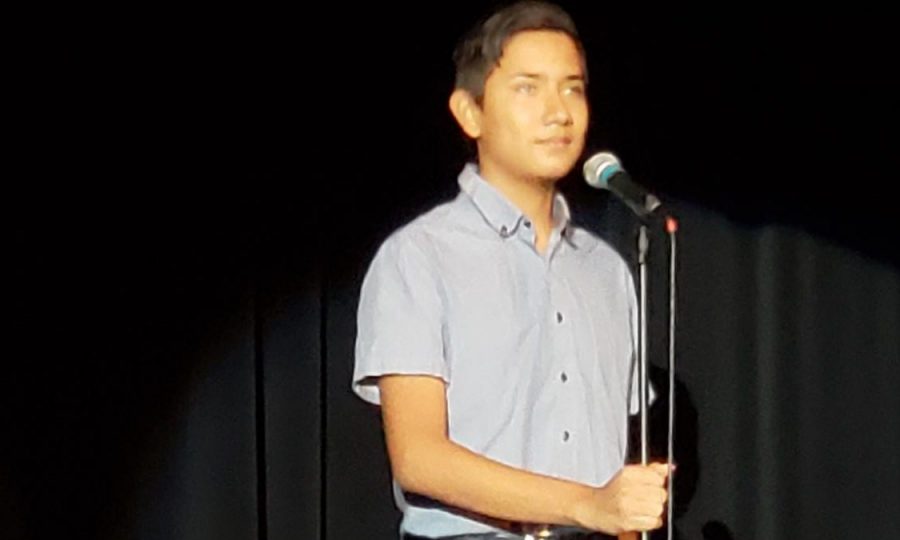 By Stephanie Galvez
October 18, 2019
It was a day of festivities, dancing, and celebrating the many contributions of Hispanic culture.  To begin the assembly, Mia Coronado and Dahliah were the Master of Ceremonies and presented each aspect of the presentation.  Nicole Silva was first, reading about the history of Hispanic Heritage Month.
First up to read on the history of Hispanic heritage month is Nicole Silva.  She stated, "The National Hispanic Heritage Month begins on the independence of Nicaragua, Honduras, Guatemala, El Salvador and Costa Rica.  In addition, Mexico, Chile and Belize celebrate their independence days on September 16, September 18, and September 21, respectively.  It is meant to celebrate the long history and culture of Latino and Hispanic Americans in North America."
Next in line was Alexis Castro singing El Triste by José José.  The audience appreciated his smooth, melodious singing voice.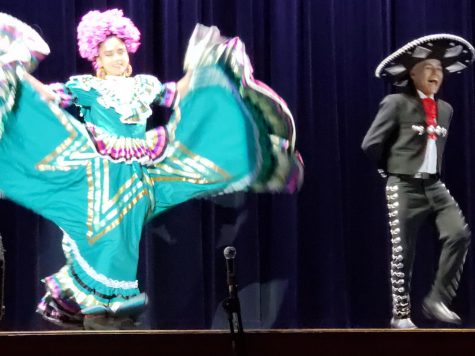 Next up to perform is Salma Morales and Mario Ramirez performing El Principio dancing in the style of Jalisco, Mexico.  The movement of Ms. Morales' authentic dress was mesmerizing.
Then Maggie Medina shared a poem on What Hispanic Heritage Month means to her.  She concluded the poem with the following, powerful stanza: "Because my culture is too rich and colorful. We are warriors.  We are Strong. And through hard work, you can go anywhere you put your mind to."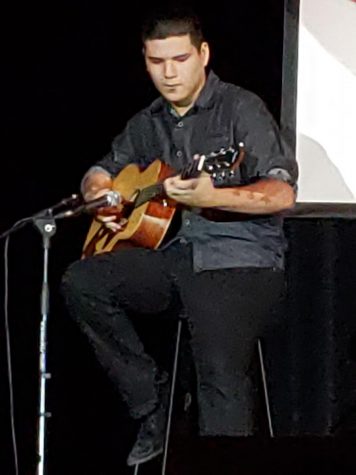 Andres Mora then impressed the audience with his acoustic Latino Guitar Medley, accompanied with a backdrop of influential historical Hispanic people who have help to enhance the already rich culture.
Then the audience experienced a Cumbia mix with Luis, Arely Ramirez, Tania Quintana, Lizbeth Montalvo, Alyza Toro, Isaiah Toro, Adrian Gallegos, Abraham Nava.  Their enthusiastic dance moves stunned the crowd.
Natalia Perea wrapped up the performances singing El Quihúbole by Beatriz Adiana.
To close the assembly, Mia Coronado shared the following:
"The source of our individual pride is as diverse,
unique and complicated as we are.
The variety in every Latin American country
is so diverse and beautiful.
Whether we are Mexican, Cuban, Argentinian,
or so many more,
we need to learn and appreciate all cultures
and educate ourselves of the backgrounds
of people we encounter on a daily basis.
Our resourcefulness,
that is engrained in us,
allows us to prosper anywhere and anytime.
What should make us most proud
is our culture
and the ability to teach it to our families and peers,
while raising awareness within our communities.
Thank you for watching
and can't wait for more performers next year!!"