Morton West Receives Visits by the Berwyn Police Departments' very own Pawfficer Romeo
Pawfficer Romeo is walking the halls. Morton West High School is frequently visited by the Berwyn Police Departments' very own therapy dog, Pawfficer Romeo. This trustworthy companion is a huge support to the community of Berwyn. Romeo was originally a rescue dog who later spent time with SIT Service Dogs, an organization that specializes in training dogs so that they may be certified service dogs.
Students have positive reactions to Pawfficer Romeo when he visits the school. Valeria Contreras, a Sophomore at Morton West, states "He's super duper cool! I'd even call him the best officer ever." It's clear that many other students can agree with Contreras. This dog has clearly made an impact on these students, and its proof is how simply petting this dog, can put a big smile on any student's face.
Many students are eager to have Pawfficer Romeo visit the school. Diego Valle, a Sophomore at Morton West, states "I wish he [Romeo] would stop by our classrooms more often."  Romeo has other tasks besides stopping by from classroom to classroom such as aiding the victims of a crime.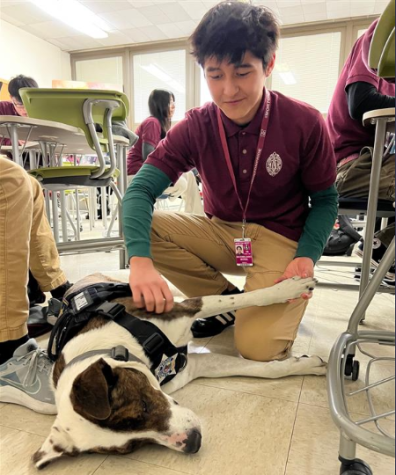 Berwyn Police Officer Juan Macias explained some of Romeo's training.  "Romeo is trained in Deep Pressure Therapy, that means he "pushes" his weight against your body in a way to say "I'm here for you". Very effective." Since crime victims can be in a shocked state, their responses to questions are often unclear and they may even be unresponsive. Romeo's deep pressure therapy offers comfort and support to these people which can help them calm down and become cooperative. Officer Macias said, " Victims of crime feel more willing to talk after a traumatic event when they interact with Romeo."
It's a wonder how a dog can understand the difficult task of helping the victims of a crime. Officer Macias said,  "Romeo received over 1,000 hours of training at the facility he was at." That's just over 40 days of hard work and training. Romeo is no rookie. According to the Police Training Institute of Illinois website, police officers only have to go through 640 hours of training. That's only three-quarters of what their canine companions have to go through. Now, is Romeo held to a higher standard than everyone else, or is he harder to train and therefore requires more time? Many people would agree that teaching a dog not to bark and act outside of its natural behaviors is not an easy task, yet Romeo is one dog that was trained to obey and he requires fewer command repetitions.
We've been assured however that Romeo's main task, is to bring joy to everyone. Don't think that his sharp teeth and strong build would scare and put any victims in a worse state. Officer Macias states "We deal with a lot of mental health calls, and victims of a crime feel more willing to talk after a traumatic event when they interact with Romeo." A few cuddles with this dog are sure to calm anyone down,  even those that work with him. Romeo has made a huge impact both inside and outside the police station. He instantly became a beloved member of the Berwyn Police Department family.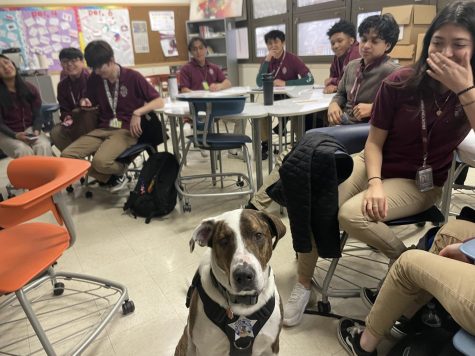 The Berwyn Pollice Department website states "Whether officers are entering the station on their shift or coming back from a difficult call, we can all agree that being greeted by the pitter patter of Romeo's paws racing down the hallway followed by his wagging tail and giant hugs has become a highly anticipated part of everyone's work day." Police officers are constantly dealing with perilous calls, and each call can come with an emotional toll. One must acknowledge that these human beings need an emotional outlet of their own, and that's exactly what Romeo provides.
Romeo's efforts to make the City of Berwyn a better place, have paid off. He's a loving companion to those police officers who care and watch over him. He's a friend who provides catharsis to anyone in need of help. Romeo's cuddles provide warmth, and his pressure therapy provides comfort. This is truly one good boy who deserves all the treats in the world.