The Senior Helping Seniors
He's a 17-year-old, working at Plymouth Place summer afternoons, serving Miss Petruzelli her meals for the day. All the while, he's also scrolling though Discord looking at sweet deals on shoes to buy and resell for double their original price. For Morton West student Lawrence Jaimes, sometimes you have to hustle.
For Lawrence, that hustle started in the deep south. He was born on July 3rd in Atlanta Georgia and now lives in Berwyn Illinois and works at Plymouth Place in Lagrange Illinois – a residence for senior citizens.  Working as a server, Lawrence has made plenty of personal connections, and that, he says, is what the job is about.
"It's nice bringing them their food. Sometimes they remember us and have little conversations for a while," he says with a smile.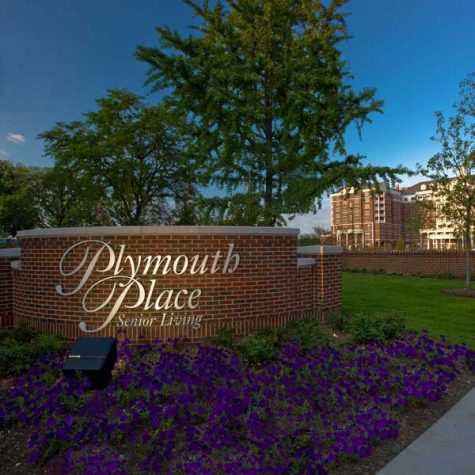 Lawrence explained how he does indeed have a favorite resident. He said, " Miss Petruzelli would probably be my favorite resident. She's so sweet, doesn't asks for too much, and never too little. "
Sometimes, however, the job can be demanding. Working seniors, he knows many of the residents have special needs because of physical limitations or cognitive decline. Some of the residents can be lonely. "They can be complicated sometimes," he said, noting their struggles.
In Lawrence's free time he explained how he likes to research and resell shoes for fun. He said, "I like to take time to research shoes and I also like to sell them." He got into shoes back in 7th grade. Around Freshman year he started to see videos of people camping out at night for new shoes and Lawrence thought it was really cool. So, because of these videos, he decided to buy a few pairs of shoes and tried out reselling them.
He was never consistent with the selling part because he is more of a collector, but recently he's been picking it up more and making his buck back. Lawrence explained, "I was always more of a collector rather than a seller, but especially this summer I got into selling them more."
Lawrence was explaining this website/app he uses to find deals on shoes. It is called Discord. Basically it is a giant chatroom that lets people know when shoes restock in nearby locations. It also lets him know where the best deals are at in his vicinity.
Lawrence was asked what he wants to do after high school. He went on to explain how he wants to go to school for business management. He stated, "I just don't want to work for someone else, I just want to work for myself and own a business." When he was asked to further explain, he went on about he does not like the idea of having a boss. He said, "Maybe I'll work for someone up until I am about 21, but by then I want to be my own boss and run my own business."
Another hobby Lawrence has is listening to music. When asked about what he listens to he answered, "I listen to a few artists like Travis Scott and Tyler the Creator, but I do like to listen to a lot of older artists that my parents grew up listening to" And there you have it, you know some more on Lawrence Jaimes, the senior at Morton West high school.