Morton West's College and Career Center
High School is a time to have fun but it's also a time to prepare for the future. The College and Career Center at Morton West is a place where students can go to get guidance on where to go to college, what classes to take in high school, what career path they should take. The College and Career Center is a really helpful place where students can go to decide what they want to do in the future whether it's going to college, trade school, or even the military.
For some students, the future can be a little scary when it comes to what they want to do or if they want to go to college,  but the team of counselors at Morton West can make that process easier. How does one make an appointment with the College and Career Center? Lead Guidance counselor Jason Booker students can schedule appointments "Well, right now being that we are in hybrid learning the easiest way is to make an appointment online either by going to the counseling department website on the school website or by using the announcements. There's a link that you can go to schedule an appointment with your counselor or with the College and Career Center… You can also walk into the College and Career Center and get help without an appointment, so either one of those two methodologies works well." Since most students aren't physically in the school,  it is easier for them to schedule an appointment through the link which is found in the daily announcements.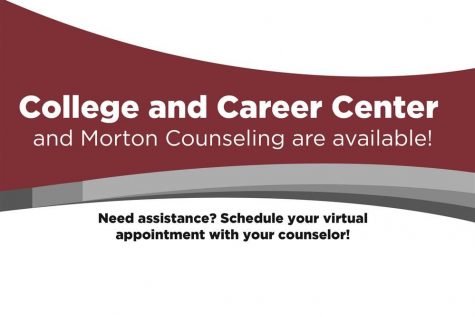 The College and Career Center uses a resource called Naviance to supplement the students and give them a guide for their high school life. You can set up the website however you by selecting colleges and classes. Booker said  "When you add colleges to your list your counselor, or I can see that list so that we can have a better-informed conversation about it. So that's the main one, you know, we also have the school website which has lots of information that's up to date on it as well." The plan for Naviance is to have all grades use it at Morton every year. Booker expanded on the use of Naviance "For a freshman, we would go into something like a freshman supervisory or a freshman class and give presentations about Naviance and help students get signed in on it and maybe do a career like a general career assessment in 9th grade. And then in 10th Grade, we would do a more detailed career assessment or career presentation to build on what you did before 9th grade, and then in 11th grade, I would begin to start rolling out some of the college's functions to students. So in the future, that's where I plan on keeping all of the upcoming college visits,  and the scholarship list as well as the scholarship searches and college searches that are built into it. And then in 12th grade is actually where you would keep your active college application list, and I can use Naviance to send documents like transcripts and letters of recommendation directly to colleges."
Some neat things the College and Career Center has to offers are college visits and also certain field trips. You don't need to be planning to go to college to attend the field trips either, there are field trips for students who are looking to go to trade school as well.  Booker said "I took students on a field trip last year to the plumbers union…the plumbers union last year is actually a super modern building. You wouldn't necessarily expect that, but they showed all the different training rooms. You got to play with all of the different tools,  like they had a three-story house set up in this building which is the apprentices training station but there are no walls on us. You got to see all the piping in the house. All you can turn on all the faucets flush, whatever you want. They had a big giant gravel pit where they had apprentice plumbers, digging into a big street where you can see them working. Then we even got to check out some of the classrooms where they're at their learning,  like the trade, math, or measurements and things like that." On these field trips, students can get hands-on experiences they wouldn't normally get. The College and Career Center also provides college visits. Booker said " We went on seven college field trips last year where we visited different University campuses. Some of them were sort of the automatic ones you would think of,  such as U of I or Illinois State, and I plan to switch up the colleges every year so we're not always going to the same ones. And we change what colleges we visit so students can have an opportunity to see some different campuses. For example say we went to Northwestern last year, now this year we'll switch it up and go to U Chicago." You can go to many different colleges and get the university experience by attending these college tours provided by the school. 
Mr. Booker and the rest of the counselors can help the students and lead them down the right path throughout their time in high school,  and help them with whatever they decide to do in life.