The New Courtyard
Janae Alejandro, Reporter
October 30, 2019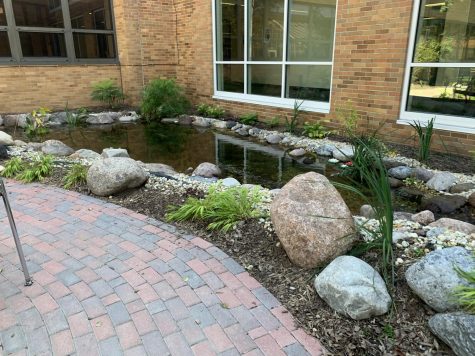 The courtyard space is dedicated to the senior class only, period.  Admits the chaos of many Morton West renovations, one of our newest additions is the courtyard. "  The Courtyard was one of many brilliant ideas by McMahon. " When we looked at the courtyard, we wanted to have a more student-friendly space, we wanted to have space where students can come out from a regular school environment and have a more social-emotional break." The Courtyard is located in between A and B hall, two entrances are located on the North and south ends of the courtyard. Walking in from the Northside, following a red brick path leading you to the different areas of the courtyard. There are multiple seating areas, and many trees are alongside the Green House, including a beautiful pear tree on the South end. The pear tree is a favorite of many students because several students have taken the opportunity to eat the pears. On the East side of the courtyard, there are two circular seating areas where students can sit. "I need some fresh air and like to get away from everyone inside. Helps with calming down and relaxing." Melina Sinclair '20. Continuing along the brick path on the Southside of the courtyard, you notice several benches.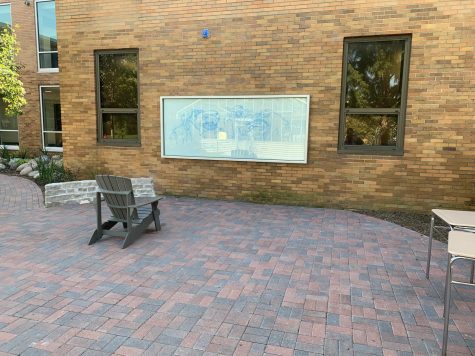 At times, several students can be seen sitting on the benches socializing. Once you get to the Southside of the courtyard you come across a big Coy pond which also has benches for students to watch and enjoy the fish. Johnny, one of our maintenance staff members feeds the fish every morning before school starts. Other maintenance workers, Mike and Scott also help by filtering the pond. You may be thinking, are the fish left outside for the winter? The answer is yes! The pond is 6 feet deep, allowing the fish to swim at the bottom where they do not freeze. Along with them swimming to the bottom, the fish also have a heater in the pond which keeps them warm.  Lastly, on the South end of the courtyard, there is a whiteboard for classes to come and learn outside on beautiful days.  Shawn Christopher, '20 said "It's a nice place to unwind for a while to eat lunch in the outside environment, which makes me not feel trapped.
Since the courtyard was made, many kids have taken advantage of it. "I'm not worried about the kids taking care of it. I think when we do things here and improve things, our students do take care of them." McMahon. Staff and students love the new addition to Morton West. It benefits students in their way!
The courtyard is restricted to senior only, "If we were to open up for everyone it won't be big enough. I feel seniors deserve perks. I think this was a perk that seniors should be able to get, and I thought it was a great way to be able to break it in and use it." McMahon added.