Great America Night
Six Flags Great America amusement park is a place to go to celebrate an achievement or just to have fun with friends and family. Morton West has had an annual tradition of offering a Great America night trip where eligible students and faculty can spend time at the amusement park. This event was at one point a senior-only trip, where seniors would get rewarded for their four years of work but the year's event has transitioned into a night to a reward for all grades.
2023 saw the event switch from graduates only to all grades from Freshmen to Senior from both Morton East and West campuses. According to Mathew Dugan, the Assistant Principal at West said "The switch was made because we only used to get 125 tickets for Seniors, so the vast majority of Seniors did not get to go to Great America. Now all graduating seniors have the opportunity to go. We opened it up to all grade levels because we rented out the park for just Morton students. So on May 6th, the only school that will be there will be Morton 201". This means that the Great America Night has become also a  student incentive for all grades to do better academically. Tickets for the event which beings at 9 p.m. and ends at 1 a.m., have been on sale since January 16th for $75.00 and as of April 21st, 274 tickets have been sold at Morton West.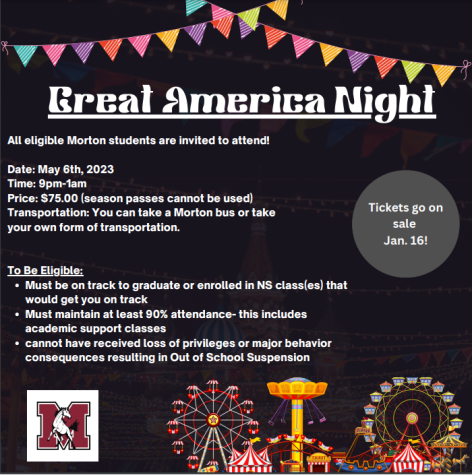 There are specific guidelines students have to meet in order to participate in the event. Mr. Dugan said to be eligible to participate in this trip you "must be on track to graduate or at least be enrolled in night school classes that would put you on track." Students must also not have received any major behavioral consequences and have a 90% attendance rate. 
Some seniors are excited about the event, but some seniors and not that happy with the event transition. Senior Melanie Luna who plans on attending the event stated, "I think it's unfair because it's supposed to be for seniors, I mean it's our last year, we're supposed to enjoy it."
Another senior Jonathan Loera who has not purchased his ticket yet stated "I don't want to go if there are Freshmen and Sophomores there."
Overall the Great America Night has now become more of an incentive with the event package including transportation to and from the park, admission to the park from 9 p.m. to 1 a.m., and a  buffet meal from 10 p.m. to midnight. There is also a special plan, buy 4 tickets and get 1 free deal in place for those bringing the whole family to the event.