College and Career Center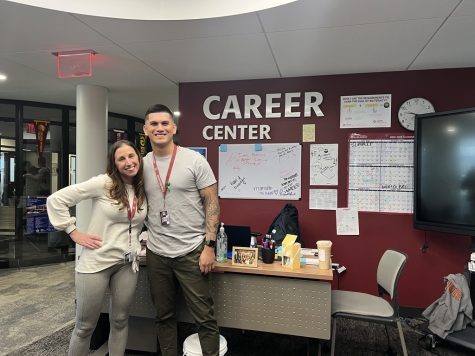 Morton West High School provides the upcoming 2023 graduates with a great source with the College and Career Center by helping seniors get a good start in their future. 
Many seniors draw a blank about knowing what they want to do for their future. Therefore, the College and Career Center is available to assist them with decisions. Giovanni Ortiz, the College and Career Liaison, said "We provide a variety of resources ranging from information for colleges/universities, trades, jobs, certificate programs, scholarships, etc. We are able to provide information to make sure all Seniors have a plan post-graduation!" 
One big resource the College and Career liaisons provide is college visits taking seniors to visit colleges, so they have an idea of what campus looks like. Ortiz said, "We have gone to 5 college campuses in which students were exposed to college life and had an information overload on specific schools." The campus visits included Loyola University, UIC, Northern Illinois University, DePaul University Morton College, and the Aurora College Fair. These college visits are very useful for seniors. Samantha Quiñones, a senior at Morton West High school. participated in College and Career activities.  "I have gone on 4 field trips this year, I went to Aurora for the college fair, DePaul University, and the University of Chicago," said Ortiz. I don't have time to go look at schools after school because I have a job, so going during school is very convenient for me.  Ortiz added.  Many seniors are busy after school hours with a variety of activities, so having the opportunity to get the help you need during the school day is a great advantage to students.
The liaisons are nice friendly people and students are comfortable going to them for help. "I feel very comfortable, both Mr. Ortiz and Ms.Ursetta are very friendly people and greet you with a smile," said Quinonez.  When seniors feel safe and not shy to go ask for help means that the liaisons are doing their job. All these positive actions and connections that the liaisons have with seniors it's such a plus.
"Interacting with students has to be the best part. Helping students figure out what they would like to do post-graduation is fulfilling. I would love to leave a positive impact on our students' lives and know that I did everything I can to lead them on the right path." said Ortiz
After all, the seniors who use this center are well-appreciative for all the help that the wonderful staff provides for them. "The college and career center is a great resource and I'm very happy to have it in the school," added Quinonez.