top 10 songs you need in your playlist chicano edition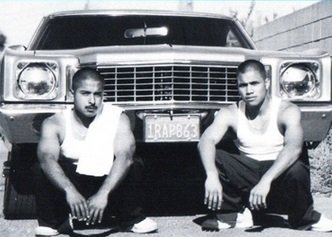 Ever chilling with your girls or homeboys and you run out of the same old songs? Here are the top 10 songs you need in your playlist for the perfect Chicano vibe whether it's cruising, hanging out, or chilling. Each song in this playlist has its own unique sound to it guaranteed to make your night a whole lot better.
#10 I Want You Back – Don Julian and The Larks 
Coming up on number 10, this song has a very oldie vibe to it perfect for you and your boyfriend or girlfriend. it has a romantic sound to it but is also super chill for cruising and riding.
#9 Donna- Ritchie Valens
We know, we know: how does such a classic get number nine? Although it's the perfect oldie to turn on, it's more on the super chill side for so if you're looking for a newer vibe, there are other songs on the list for you. Donna by Ritchie Valens is still a hit in the Chicano community coming down as a classic still to this day.
#8  Suga Suga-  Baby Bash
Suga Suga is THE 2000 song. It's known not only by the Chicano community but if this song gets put on at a party, the guests would at least recognize this banger. Adding this song to your Chicano playlist really ties in with the vibe Chicano music brings. a mix between chill but still vibing.
#7 Summer Nights by Lil Rob 
Summer nights, it's even in the title. This song is a perfect new addition to your playlist if you want something that your friends are going to love while cruising and riding maybe through Lakeshore Drive, windows down, and music up. Summer Nights by Lil Rob gives the perfect feeling of nostalgia back to your childhood days when everything was fine and all the youngin's were worried about was living life.
#6 Come Home Soon- The Intruders 
Just picture it: you and your boyfriend/ girlfriend whatever you got, y'all are chilling with this song playing in the background. That itself is a perfect night. The feelings that this song creates are crazy. As soon as this song is played, it's ultimate relaxation and nothing but good vibes. It's this type of song that makes time stop. Just take a listen for yourself. (Actually, run it back… this song needs no type of company for it to hit differently.)
#5 Pretty Girl – NB Ridaz
Coming up on number five, pretty girl by NB Ridaz. pretty girl is more for the girls. We all love a little girl time… BUT hey if the guys wanna hop on this banger as well, by all means! If you're trying to make a lady fall in love, just play her this song and the NB Ridaz are gonna for sure do the job for you with their words that make any lady fall in love.
#4 Nobody's Clown – Los Yesterdays 
Next we have Nobody's Clown. This rola (song) is one of the new ones. a new creation with the old essence to it. If a song screams Chicano, it's this one.  With its chill and catchy sensation to it, it's hard to ignore.
#3  Sleepwalk- Santo and Johnny 
Making the top three in the list for me, this song holds a very special place in my Chicana little heart because it's such a classic, and sometimes the best songs have no words in them. These instrumentals are the types of melodies that speak for themselves. The perfect song for a late-night cruise.
#2 LOCO MC Magic x C-Kan
All I have to say is straight FIIIIRRREEE. A classic Chicano rap and beat, and you already know what Mc Magic is known for: nothing but them good rolas! Your homie will love this, and so will your girls. It's perfect for a more upbeat vibe than the rest down the list, but this is what we're looking for. Check out more of MC Magic for yourself! He won't disappoint if this is more of your vibe.
#1 Lost- Cali Life Style 
Nothing can beat this song in my point of view. Every time this song starts playing, I fall in love all over again. Lost is a song that provokes this feeling of ultimate chill. I promise, it won't get chiller than that! The lyrics, the beat,  and even the name:  overall it's a song that was beautifully made from that raw cholo lifestyle. Proudly a Chicana, these are my top 10 recommended songs. Hope you enjoy the #1 !