Mustang Profile: Artist Natalie Cameron
Way back in 2012, 3rd grader Natalie Cameron spent her school days "doodling little animals" in her notebooks. Ever since that young age of 8, Natalie Cameron has known she loves art.
Now a Senior, Natalie says she enjoys doing graffiti art and plans on going to an art school after high school to become an artist or art teacher.
When she is not at her job at Burlington or doing schoolwork or art, Natalie also enjoys playing video games like Death by Daylight. She is also a part of after school activities like Adventure Club and Art Club, says Natalie.
Natalie says she has lived in Berwyn her whole life, now living with her grandparents, parents, little sister, and cat named Max. Natalie talked about how she has been playing football and baseball for four years in a team with her family, although she hasn't joined any teams at school for these sports.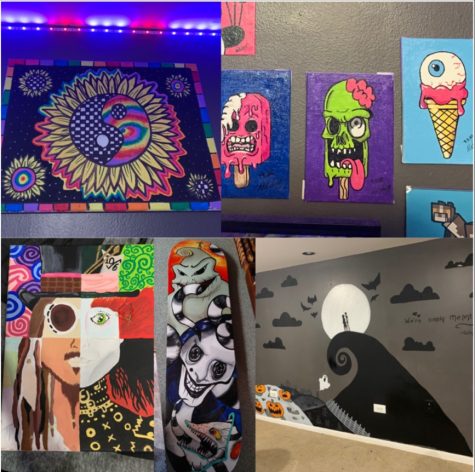 For middle school, Natalie went to Heritage Middle School. She is now a senior at Morton West High School in Berwyn, where she mainly enjoys math. When asked why math is her favorite subject, Natalie said, "I'm really good with numbers".
Like many others, Natalie said that she liked remote learning during the 2020-21 schoolyear at first because it was easy, but ended up disliking it and struggling with it as the months passed.
During the pandemic, according to Natalie, she loved staying at home because she could do the things she enjoys to do and could see her family more. Natalie said, "Without the pandemic, after the school day I went straight to clubs, then work, and home and I almost never got to see my family and friends, so I really enjoyed being home all the time."
This summer, Natalie traveled to St. Louis and Mexico, where she visited family. In the future, according to Natalie, she wants to travel to New York, Texas, Seattle and Tennessee because, according to Natalie, she "knows those places from shows, like 'Grey's Anatomy' is in Seattle" and wants to see the places for herself one day.