2020 NBA All-Star Game
The last All-Star Game in Chicago(1988) had the honor of gracing players like Michael Jordan, Larry Bird, Isiah Thomas, and Dominique Wilkins. All of which currently reside in the Basketball Hall of Fame. Hopefully in the future, the same can be said about the all-stars of this generation. This year's All-Star NBA weekend was held at the United Center on February 14-16, where people saw players like Lebron James, Anthony Davis, Giannis Antetokounmpo, and Kemba Walker participate. One reason All-Star Weekend was so popular among fans was because the fans actually had the ability to vote on which players they would like to see perform in the game. Basketball enthusiast Julian Lopez '20 stated, " I really want to see Zion Williamson in this year's All-Star Game, he's just the type of player to leave people in absolute awe of his talent".

The NBA All-Star game has always been a place for players to have a little fun and show off just what they can do. Insane dunks and alley-oops have become the norm in the All-Star game, so being left in awe is to be expected. Morton West Sophomore Boys Basketball Head Coach Robert Kraft said that he was "most excited to see high flyers like Alex Caruso and Tacko Fall perform in the game". The rivalry between the Eastern and Western conferences has been a little one-sided over the years, so hopefully, Eastern conference players like Zion Williamson and Tacko Fall can be voted in and take the glory away from the West. Although the All-Star game was certainly the most popular event happening during the All-Star Weekend, it is not the only event that left fans in awe.
Additional events included the Taco Bell Skills Challenge, MTN DEW Three-Point, and AT&T Dunk Contest, NBA Rising Stars game that had rookies play, and the NBA All-Star Celebrity Game presented by Ruffles. There are also rumors circulating that the current Chicago Bulls point guard, Zach LaVine, might accept an invitation to this year's dunk contest. This was particularly exciting news because Zach Lavine was already a 2-time dunk contest winner and his rival, Aaron Gordon had already declared his involvement in the contest this year. Varsity Girls Basketball player Sarah Theodorou '20 stated: " I really wish Lavine would do the dunk contest again, I think his rivalry with Aaron Gordon was just so entertaining and led to what I think are some of the best dunk contests of all time". Zach Lavine competed in this year's MTN DEW Three-Point Contest and he surely captured the attention of many with his stellar play. Sarah Theodorou 20' said "his shot has really blossomed this year".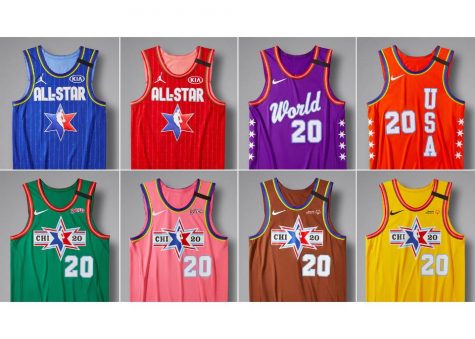 The tradition of the Eastern and Western conference rivalry was once again ignited in this year's All-Star game. The team captains of this year are Lebron James and Giannis Antetokounmpo. The starting lineup for Lebron James' team consisted of guard James Harden, forward Luca Doncic, forward Anthony Davis, forward Kawhi Leonard, and Lebron James himself. The starting line up for Giannis Antetokounmpo's team consisted of guard Kemba Walker, guard Trae Young, forward Joel Embiid, forward Pascal Siakam, and Giannis Antetokounmpo himself. Julian Lopez 20' said, "I'm the most excited to see Anthony Davis play, I've always been a big fan of him since he's from Chicago". The jerseys in this year's All-Star weekend represent Chicago's famous "EL" train system. The Eastern Conference represents the Redline while the Western Conference represents the blue line. Thie NBA All-Star weekend was an exciting event for basketball fans. The jerseys worn by the players will be auctioned off to benefit the Kobe Bryant Foundation.