Fall 2019 Musical: Singing in the Rain
Ixmati Estefania - Walker, Reporter
October 30, 2019
For many years, Morton West has been producing several musicals. Each year they deliver a spectacular performance. For the fall of 2019, the theatre department will be working on bringing the production "Singing in the Rain" to life.
The production will take place during the weekend of November 21-23. Until the debut, there is still much work to be done from the cast members and everyone behind the scenes, including lights, sound, crew, and directors.
Ms. Janine Delmonico, Fine Arts instructor is in charge of the Morton West Theater department, reveals the musical was chosen carefully, "Well for years I was told I had to do family-friendly shows that would bring in an audience, 'Shrek' 'Cinderella,' 'Seussical.' Last year I thought it was time to do something a little different, 'In the Heights' written by the guy who did Hamilton, (Lin-Manuel Miranda) which was incredibly successful. We decided to do a wing drop set which (a wing drop set refers to scenery painted on pieces of flat wood arranged in a form to present the illusion of a three-dimensional scene) comes down from the wings and comes down into the space. We haven't done this in a long time, and I wanted to do a classic piece of literature, because it's funny, fun, got great dancing and is a classic piece of literature."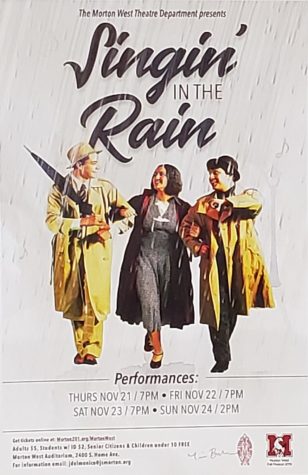 "The music is chosen by pulling my hair out, asking suggestions, watching musicals, having a big cast." After the whole auditions process and the cast is set, rehearsals are held regularly every day, Ms. Delmonico reveals, "…as we get closer to the show we do tech rehearsals; hopefully we don't have to do a Saturday rehearsal, but it has happened, we leave our options open."
How will Morton West add its twist and touch of magic to the original? Ms. Delmonico discloses the production team's plan for the fall show. "Well you can't change any of the lyrics or the lines, so the only way to make it yours is by choosing actors who are willing to make choices that are special. But also choreography by putting their own flare, putting dance moves that students can do. It's a tough balance." Each part of the production will go into making the musical more of Morton West's own style.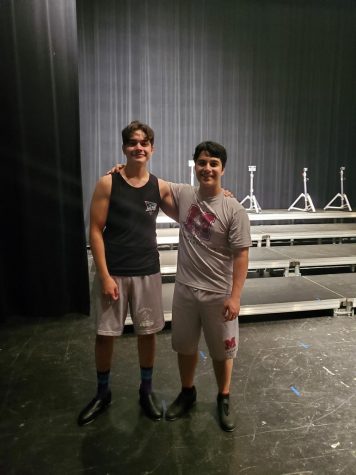 Anthony Villarreal,  '20, who is part of the ensemble revealed that "There's always time during rehearsal for vocal exercises which lasts for 10 minutes and some days that we dance, we stretch for 10 minutes." As students became interested in being a particular role, they studied different parts in order to become fully immersed with the character. Students try to maintain an upbeat attitude to keep a positive atmosphere in the daily rehearsals, whether to practice singing or to practice the dance numbers, the effort shows how much time and work they plan to put into this production.
Another cast member Kaylee Price, '21, plays the role of Dora Bailey, a radio star, and she is also a featured dancer, said "I think the hardest part about bringing this show to life is having to put ourselves into the mind and body of famous 1920's stars. It's definitely a challenge, as modern teens, to force ourselves into the shoes of people from a time so different and long ago from our own. And the tap dancing is pretty hard." Despite this, Price powers through and tries to overcome these obstacles because she if is genuinely passionate about this production.  "Theater is a large part of my high school experience. I love theater with my whole being, so I try to be as involved as I can. I'm always a part of the productions in any way I can be, and I just enjoy being there." Price added. This is why we have such dedication within the cast and production team to present a quality play.
With the immense time, dedication, and hard work put into the show; the production team profoundly hopes they will have full houses during the Fall Musical: Singing in the Rain.