Mustang Morning Cafe
Deliciousness will fill the air again as the Mustang Morning Cafe opens their doors from 7:15 a.m. to 8:15 a.m. on January 25th. This will be the second time the culinary students have put together a sweet treat for the Morton West staff. Featured yummies include Chocolate Chip muffins, Scones and Strawberry Parfaits, beverages will feature Caramel, Hazelnut and sugar free Vanilla Lattes featuring Almond milk and all the coffee essentials.
Courtney Bay, a culinary arts teacher said "The concept (of the morning cafe) was created this year when we added a zero hour culinary class, and with connection time (from 8 a.m. to 8:30 a.m.) gave us the opportunity to have students work in the restaurant field."
The preparations for the Cafe began the day before with making the blueberry muffins and the classic vanilla scones.  Students were assigned specific duties during the morning cafe service and a new espresso machine was put to work, as it took four students to make the deliciousness happen. Culinary arts student Jennifer Hinostroza '21 said "one student put the syrup in a cup, another student put the two shots of espresso in, another student steamed the milk and put it in the cup and the last student put the whipped cream on top and closed the lid."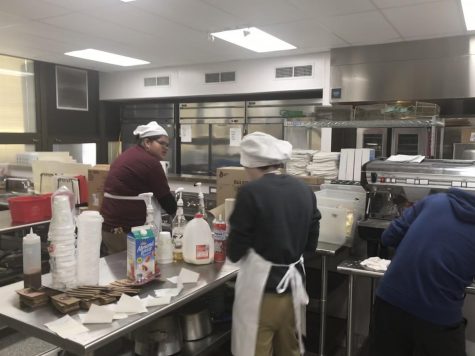 Feedback from the grand opening was positive. Cory Enright, counselor said "the vanilla latte flavor was right and there was prompt friendly service." Assistant Principal Amanda Torres said the students "handled it well for how busy it was." The scones were delicious and the service was good, Torres added. Jennifer Hinostroza"21 said "it was really fun". We were really rushed, there were more specialty orders that we thought there would be."
The profits from the Morning Cafe will be used to fund the Culinary Club's activities.  The grand opening service featured blueberry muffins and classic Cream Scones with a vanilla glaze. Beverages included Vanilla Latte, Caramel Latte, Double Espresso with whipped cream and hot chocolate.  Bay said the upcoming Morning Cafe will feature and improved ordering system and 30 more minutes of service.