Special Education Students Assisting the Cafeteria
Special education students have been cleaning up and assisting in the cafeteria all year long and for more than eight years. The Morton West website declares: "The educational future of all students hinges on helping students and teachers become better members of a community by creating new visions for students and for schools.  Including students in the general curriculum is not only a legal requirement; it is what is morally and ethically right."
This program has been a part of the school curriculum for more than eight years, where students volunteer in places like the cafeteria, Berwyn Library, Culver's, Berwyn Town Hall, YMCA, Mission House Cafe, and many more. " The program is designed to teach them work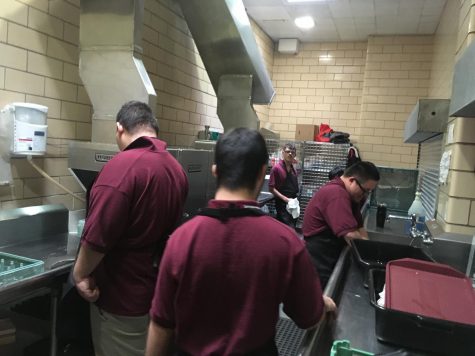 skills, that might come coherently with people with regular abilities, but people with disabilities don't recognize those skills" stated Josh Baltz, the ASI Vocational Teachers at Morton West High School. This program is meant to teach students basic work skills and ethics. This gives students an opportunity to have experience in the workplace as well as everyday life.
Each student volunteers about three hours a week and varies on each individual student. Other activities that this program offers is career exploration, practicing social skills, and practicing communication skills as well. "This program is designed to put students in situations that make them ready for the real world" Baltz stated. Benefits that are not only learning great skills, but also sometimes ice cream or a soda from good hard work, but never paid. Baltz wants students to also
realize that you do not always get a reward for doing good work or doing what they are asked. The Special Education Department Staff are a group of people who have big hearts and lots of patience for students.