The Upsides of TSI
December 21, 2022
Located in room M205, Technology Service Internship, better known as TSI is a class at Morton West where students fix fellow students' laptops and learn objectives in order to become more educated in computer fields.
TSI comes with many benefits due to there being a lot of opportunities available. Since every student at Morton West has a laptop and technology is expanding, many issues like cracked screens may occur on student computers, meaning that Morton needs people to step up to fix the issues.  Andrew Boland, the TSI teacher said, "There are some schools that have implemented a TSI or student help desk curriculum, and I think that more schools should do it, not only does it empower the students to be helping their school community, but it also gives lifelong skills on how to work and how to manage." Fixing computers could be the first step in leading students to improve their mindset as workers. Second-year student, Jesus Martinez said, "I think TSI is a good course selection to take during your high school career because you get to learn how to repair computers, so that way you get to repair your own computers and save up a few extra bucks." Along with the helping process, communicating with students about your laptop issues builds communication skills that are important throughout your life.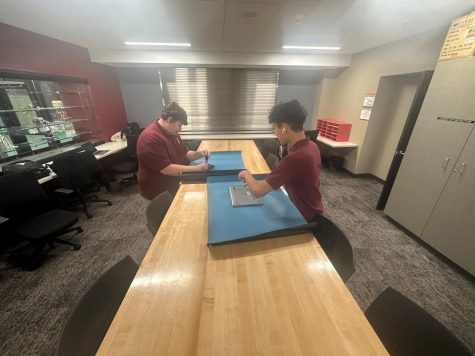 Moreover, TSI can teach more about work ethic, Mr. Boland also said TSI provides and can "…offer industry certifications in various Microsoft products which students can take with them when they leave Morton. Also, they have the skills of computer repair that they can use for their own personal lives or they can pursue a degree in computers."  Expanding on the certifications in various Microsoft products, TSI uses an application named GMetrix in order to teach students all of the functions of Microsoft products such as Microsoft Word, Excel, and PowerPoint. Once students think they have practiced enough with a Microsoft product, students will then take a certification exam, which if the student passes, the student will receive a certification that can be used for a job they may want in the future.
Another major task TSI offers is to build your resume. Mr. Boland said, "…each year we work on building a student resume where the students put their previous work experience including TSI stuff and also those certifications that I have mentioned a couple of times are able to carry on and they can help them find that first job or set them up in their career." These resumes can be the blueprint to finding a job since all of your information will be organized with work experiences that jobs would like to see.
As TSI continues, TSI will continue to grow and improve. Mr. Boland said,  "Just like anything, we will always continue to get more efficient and refine our practices to ensure that students are getting their devices quicker and fixed even faster." TSI will only become more beneficial over time. With online technology continuously being used more and more, people are always going to be needed to repair their devices and resumes are always going to be a major head start to finding a good job.