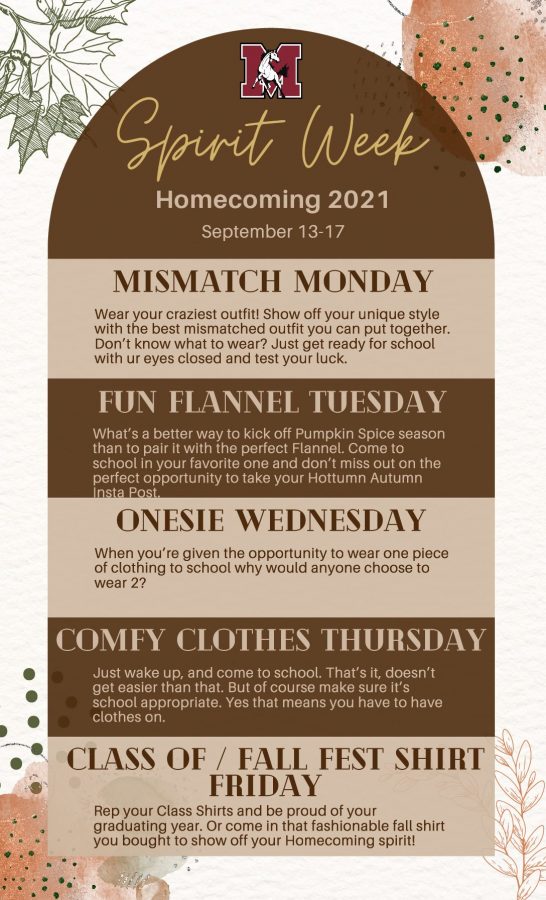 Get Ready For Spirit Week!
In this up coming week tune in for the fun festivities of homecoming: Spirit week! These dress down days will start on the 13th and end the 17th which is the homecoming football game!
On the first day, Monday is "Mismatch Monday." Students can wear their craziest outfit! Show off your unique style with the best mismatch outfit you can put together. Don't know what to wear? Just get ready for school with your eyes closed and test your luck!
"I'm excited to see how wack people dress," said Senior Matthew Longoni.
Fun Flannel Tuesday is up next! What's a better way to kick off pumpkin spice season than to pair it with the perfect flannel? Come to school in your favorite one and don't miss out on the perfect opportunity to take your Hottumn Autumn insta post!
Wednesday is "Onesie Wednesday". When you're given the opportunity to wear one piece of clothing to school, why would anyone choose to wear two?
Next day is "comfy clothes Thursday". Just wake up and come to school. That's it. Doesn't get easier than that. But of course make sure its school appropriate.
"I'm most excited for comfy clothes day because I get to just wake up and not change," said senior Clarissa Segura.
To end all the spirit week fun come to school with your "class of" or "fall fest shirt, on Friday! Rep your class shirts and be proud of your graduating year. Or come in that fashionable fell fest shirt you bought to show off your Homecoming spirit!