What's Cooking: Morton West's New Culinary Arts Lab
State-of-the-art facility offers Morton students hands-on restaurant experience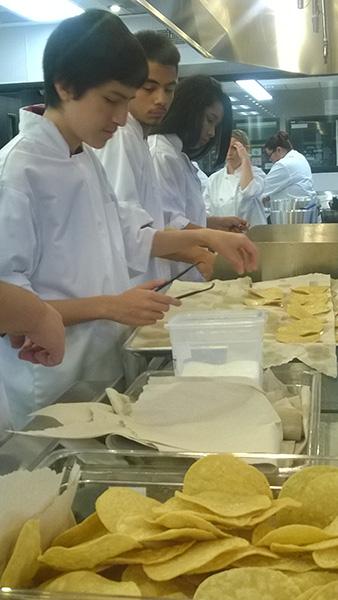 Hang on for a minute...we're trying to find some more stories you might like.
Most classrooms fall quiet when summer comes to Morton West, but B-Hall was abuzz this past break as work was completed on the school's new culinary arts lab.
In May, Visual Construction Company started to demolish the classrooms of B101 and B103 at Morton West High School in order to build a top-of-the-line Culinary Arts Lab. Crews finished the work in the first several weeks in August.
Ms. Stroebel, Morton West's culinary arts instructor, said the new lab was built with restaurant quality appliances including four 6-range burners, eight deep fryers, four flat-top griddles, four grills, two convection ovens, a pizza oven, two industrial size refrigerators, and a full-size freezer. The lab's new three-compartment restaurant service sink will allow for cleaning and full sanitization, Stroebel said.
The new lab came at just the right time, as the previous culinary arts lab was beginning to show its age, Stroebel said. "Countertops were starting to come off, the ventilation system wasn't the greatest, equipment in general was not up to date, and there was little storage," Stroebel said.
In front of the lab facing out onto M-hall is a classroom area that converts into restaurant table seating, Stroebel said. The seating will enable the lab to host restaurant days for teachers and staff, and Culinary Arts 2 students will be planning and pricing the lab's menu, she added.
With the installation of the new lab, Culinary arts will be more career-based compared to students cooking home-style meals in the past, Stroebel said.
Students will be graded on labs, tests, and projects according to a lab rubric. Since labs are a performance grade and the class focuses on restaurant style culinary operations, they will weigh for 30 percent of a students grade.
Some lab projects include omelettes, salads, appetizers, fruit and veggie preparations, sauces, soups, desserts, poultry, and seafood. Students will also be participating in a cake-decorating contest against each other.
But before students are able to make these fancy foods, they must pass a Serv-Safe test, which allows them to demonstrate their mastery of safe culinary operations, Stroebel said.
While taking the culinary arts class, students will also have the opportunity to get certified in ProStart, a career technical education program backed by the National Restaurant Association. Students will have an entire unit devoted to serving guests and management essentials, according to Stroebel.
On top of that, students will be switching roles during restaurant days and students in Culinary arts 2 will plan and price the menu.