Santa Claus is coming to town… with application decisions!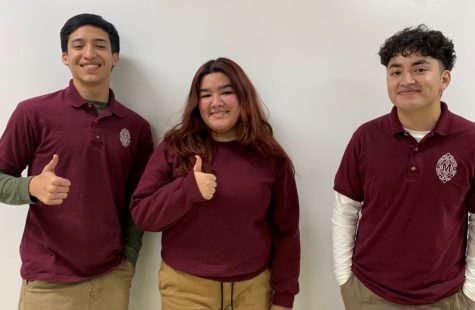 When December rolls along, the holiday spirit comes right with it. However, for many seniors at Morton West, the spirit of this month is overthrown by the stress of meeting college application deadlines. Instead of spending their nights watching holiday movies with a cup of hot chocolate and counting down the days until Christmas. Our seniors are spending late nights writing essays, completing applications, and counting down the days until application deadlines.
Mila Rico, a senior at Morton West, shares that after high school she plans to attend a four-year university to major in communication studies or sociology. Rico describes some struggles she had during her application experience stating, "In terms of my personal essay, I had no idea what I wanted to write about because I felt like I didn't have an experience that really shaped me or was even worth talking about. Having to dig deeper to find something was hard." She says that even though the process wasn't easy she utilized school resources like her counselor to guide her through applications which made the experience seem less daunting. Rico leaves a piece of advice to other seniors, "don't let the application process ruin the first semester of your last year. Whether you're applying for Early Action or Regular Decision, it's easy to feel the weight of applications on your shoulders and feel like there isn't enough time to get it done by the deadline. While, I do think that time management is really important to figure out during this time, go out and have fun!"
Another Morton West senior, Alan Robledo, who plans to major in computer science shares similar views saying, "The initiation is the hardest step in the application process. Getting out of the 'not knowing' phase was the largest step to overcome. College just seemed to generate so many questions for me, such as what to ask, who to talk to, and where to go. It's a subject where none of my friends are experts, so seeking that guidance without help from anyone is a grueling task." Robledo encourages other students not to hesitate to start the application process early as it can be a very intimidating task to plan your future after high school. Jacob Ochoa, a fellow senior, contributes his thoughts stating, "Some advice that I would give to other students applying to college would be to try and stay on top of your stuff, try and do your best throughout high school, and to not rush anything because if you start to rush things, then you will most likely regret them later." Ochoa looks forward to meeting new people and learning to be independent while living on his own during his time in college. Both Robledo and Ochoa recognize the College and Career Center here at West as helpful resources during applications. They express that the College and Career Center was able to provide them with guidance, support, and advice on how to go about applying to different universities, and what to include in their applications.
Mr. Ortiz, a Morton West College and Career Center counselor, shares, "I would be lying if I said I was not jealous of the resources students have now at Morton! Having a college and career counselor alongside a college and career liaison is one of the best resources students can have. If you have any questions or concerns about anything post-high school we WANT you to come down and ask any or all those questions or concerns you may have!" He encourages students to reach out for any type of college application or post-graduation support. He expresses, "We will sit down with you and overlook all your options to make sure you have a plan post-graduation" Mr. Ortiz strives to have a positive impact on students and have them feel confident about the choice they will be making for their future, he says, "The biggest victory is seeing our students go on to their future jobs, schools, trade programs, etc., and leaving with a smile on their faces."
Although the application process may come as a freight to many, here at Morton West seniors are provided with several sources of support and guidance through their counselors, teachers, and peers. So, don't be afraid to reach out for help during the application process, and remember, you better not pout, you better not cry, cause Santa Claus is coming to town… with application decisions!