Varsity Girl's Basketball "Lays Up" An Excellent Season!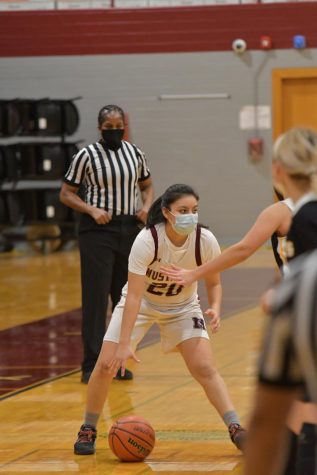 Although the winter season has been surpassed, winter sports have commenced! One of the winter sports that was fortunate even to have a season was the Morton girl's Varsity Basketball team. Due to the pandemic, the girl's basketball season was pushed back to February as the season usually starts around mid-November. Thankfully, with safety protocols, these young ladies were able to have a season. All though we are still in a pandemic, nothing could stop this team from doing the best they possibly can!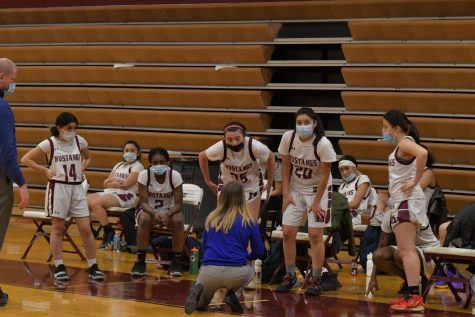 Laura Valdez '21, has been playing at the varsity level for 4  years since her freshman year. Valdez explains how the season has differed from the years prior. "The season isn't the same as the years before, the fans, the energy, it just isn't there anymore.
However, I'm just thankful enough to be able to play as a Mustang one last time." Valdez also mentions the difficulty of having to play with a mask, "The mask helps us stay safe, but it is sometimes a pain to wear. It's hard when conditioning and playing in a mask because it really does make it harder to breathe." When asked about the overall playing experience, Valdez says, "I think the school has done a great job at commemorating the needs of the athletes and creating a safe environment to play in." Being a senior for Valdez meant she would have her 'Senior Night' along with other seniors, however, due to the pandemic, the 'Senior Night' wasn't the same as it was in the past. Valdez says, "I'm so thankful that we were fortunate enough to have a senior night and didn't mind the fact that it was different, I was just happy we had the night and a season."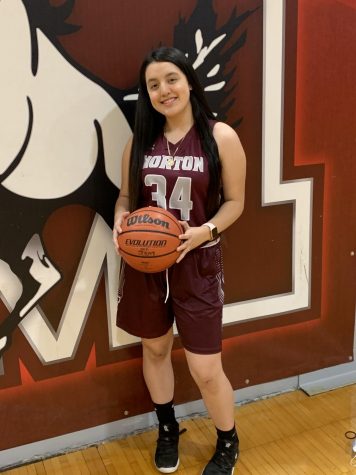 Lynnete Bautista '22,  is in her third season as a Mustang and plans to continue her journey as a senior next year as well. " I have been playing basketball at Morton for 2 years, I started my Freshman year, and it was an amazing experience. After that, I was not able to try out for my Sophomore year team due to an injury I was overcoming. Now I'm in my junior year now, and on the Varsity team."
Bautista also shares her experience with wearing a mask, "Playing with a mask is something newly added of course, and something that is not so easy to adjust to. Sometimes the running and training makes it more difficult, but it's a gift to even have a season this year. So if it helps us stay on the court and in the gym then playing with a mask on is for the best safety during the pandemic." Bautista says, "I think I speak for the entire team when I say, we are all thankful to have been gifted the season we had. There were low chances of us being able to get back in the gym, but with the new rules, we were able to make it work. Of course, this season was different from the rest, but as we Sophomores, Juniors, Seniors, and Coaches come together we were able to enjoy the Varsity season we had and continue to make for the new coming year." Bautista addresses her senior teammates, "To the seniors I've played along, they've shown incredible progress that makes us undergraduates look up to. They leave marks on all the players and coaches because of the amazing work they put in. As seniors, they've done their job amazingly and deserve the best future as they leave an outstanding mark as a mustang for the girl's basketball team. I think I speak for the entire team when I say, thank you from the Morton Varsity Basketball Girls."
Basketball at Morton is a very popular sport and many students and parents love to go and support the home games at Morton West. However, due to the pandemic, the in-person attendance for sporting events has been canceled. Thanks to technology, the fans could stream these games live via NFHS Network. The NFHS Network is the leader in streaming Live and On-Demand high school sports. The NFHS Network covers 27 different regular season and postseason sports, as well as other high school activities, celebrating the accomplishments of student-athletes, student broadcasters, and high schools across the country. All NFHS Network events are available to watch online (www.NFHSnetwork.com) and through the NFHS Network Mobile Apps for iOS and Android and TV Apps for ROKU, Amazon Fire, and Apple TV.