Ms. Ebsen Off to OPRF, Future of Morton Athletics
Morton's Athletic Director Nicole Ebsen is headed to Oak Park-River Forest High School after this school year. Many people are sad to see her go, but as a district; we look back at Nicole Ebsen's accomplishments and impacts.
The district learned that Morton's Athletic Director,  Ms. Nicole Ebsen has accepted a new position at Oak Park-River Forest High School in January. Ms. Ebsen has helped direct some great moments here at District 201 and she reflected on some of her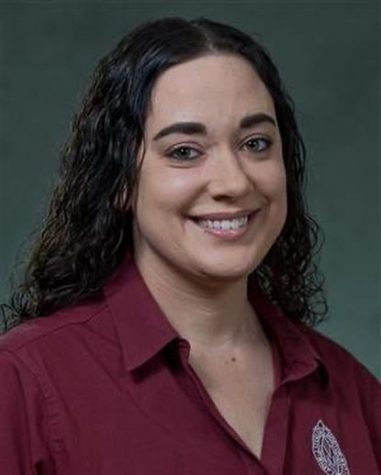 fondest memories while working with Morton Athletics,  "There are SOOOOO many memories to choose from! Homecoming is always a special time here at Morton. It is a time when the community comes together to celebrate being a Mustang. I look forward to that every year! College signing night is always special because it showcases the hard work of our athletes and how that is going to lead them into life after high school…Any time we can celebrate as Mustangs, past, present, and future,  it is a memorable experience!" Ebsen has done a great job in keeping our athletes motivated and working with other coaches and teams as well. Many of her colleagues have made special bonds with her,  and understand how much of an impact she has made on Morton.
Kelly Bartosz, Morton Assistant Swimming and Water Polo coach said, "From day one, Ms. Ebsen has fought for great athletic programs for our athletes.  She has upgraded our facilities and provided equipment for the athletes through budgeting as well as partnerships with the booster club and other sponsors. She always made sure that programs had what they needed so our athletes could be successful,"  Bartosz highlighted Ebsen's strategies to improve school athletics, "Ms. Ebsen also made a point to prioritize all the sports. Her doing that made a big impression on me because I coach three sports that are not the traditionally popular "big crowd" sports. I never felt like my sports were ignored or marginalized, and that makes a big difference not only to the coaches but also to the athletes."
Many people in the district are well aware of Ms. Ebsen's presence and involvement in sports.  Ebsen's current and future strategies as an athletic director will accompany her to the new environment at OPRF, "Number one strategy is to build relationships. I have some strong bonds here at Morton and I can only hope to forge some strong relationships at OPRF as well. Relationships are what makes being an Athletic Director fun! Knowing your athletes, getting to know your coaches and their families, and having relationships with various other stakeholders is what allows a department to have success." Many people have forged strong bonds with Ebsen, have had positive interactions with her, making it easier for sports programs to run. The relationship strategy can hopefully, spread to OPRF, creating a collaborative environment for the conference.
With knowing that Morton Athletics will see a new era with Ebsen's absence, there are many questions left to be asked about what is next for Morton. Considering that sports are hanging on by a thread with the ongoing pandemic, people are left wondering how there will ever be a sense of normalcy again.  Ebsen said, "Morton Athletics is going to continue doing great things in the world-class facilities that we have in Morton 201. The rich tradition, dedicated coaches and amazing athletes will keep everything moving forward,"  Assistant Swim Coach Kelly Bartosz gives a similar point of view on the same topic, "I think next year we will continue to see a great deal of success within our ranks. I know that the athletes are excited and ready to have an expanded schedule. The coaches are definitely ready to get back to a full competition schedule, as soon as it is safe to do so, of course." Many of the athletes and coaches are on the field or ready to start getting back out on the field, court, wherever it may be, Ebsen and Bartosz have made it clear that they believe Morton is going to continue to do great things.
In the tradition of doing great things, this past year has been extremely tough for the athletes, coaches, and our athletic directors like  Ebsen. With many IHSA modifications that we are expected to see in the future for our athletic program, there are many questions and opinions on how our athletes with overcoming what has been a tough and painful year. The school saw great turnout by students in the fall, but with a new athletic director on the horizon and many of the winter sports were pushed back; how will be Morton be able to overcome these obstacles?
Ebsen weighed in on this subject, "I think the challenges are getting athletes reengaged, physically ready to compete, and having everyone feel safe. We will overcome these challenges by creating an environment where the athletes and coaches feel comfortable," Ebsen feels athletes will conquer the many new challenges. "Once we find ways to provide opportunities, we need to continue to monitor safety procedures so we can keep competing!"
Many coaches are also optimistic about the start of spring sports. Coaches like Bartosz and many others are excited to get back out there after a tough year of high school sports. Coach Bartosz said "I think that Morton has one of the best Covid-19 safety protocols I have seen in the conference this year. Our facilities have hand sanitizer installed all over, and each athlete even received their own water bottle and mini hand sanitizer to clip on to their gear bags." Bartosz believes that Morton is well equipped for the challenges that are set to come in the future.
Ms. Ebsen has left a lasting impact on the district and has engaged athletes around the school. Even though Ebsen may be leaving District 201, athletes and coaches can be assured that everyone is ready and engaged to begin a new journey in the world of high school sports.