Brookhaven: Not Your Average Food Market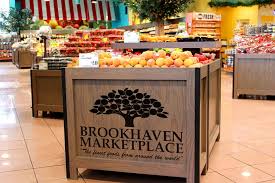 For most Americans, grocery shopping is a chore. But where average shoppers distractedly grab frozen chicken tenders, some tater-tots and a can of green beans, the detail-oriented foodie or home chef sees butterflied organic marsala free-range chicken breasts with herb-roasted fingerling potatoes and lemon-butter haricot vert.
In short, it's the difference between Big Macs and Filet Mignon, and that difference can be found at a family-owned upscale grocer in Burridge, Mokena, and Darien, IL.
Brookhaven Marketplace, founded in 2004, is known for products that far less extravagant facilities may not endorse, such as their many exotic and foreign foods like: Dragon fruit, Kimchi, and much more you don't normally see with other well-known brand stores. But if the products are different, is the job different, too?
Working any job, anywhere can be rather difficult, especially that of a cashier employed in big-name stores such as Walmart, Sam's club, Jewel Osco, Trader Joe's, and even Starbucks. Although it may seem like the easiest, most doable task, ringing up fresh veggies, hot meals, seafood, and candy isn't always "rinse and repeat" at a more specialized grocer like Brookhaven.
Andrew Ratcliffe, 21, a Burridge Brookhaven employee of 4 years, began working at the market around the age of 16 and he knows about the types of struggles that can sometimes come along with working at the family-owned market. "Some days can be a pain; especially when it's busy, but the customers are great and the employees are essentially family," he exclaims.
During the average weekday, things don't really seem too hectic at the store. However, when it comes around to the holidays, it's a bit of a different story.
"Every holiday is extremely busy," Ratcliffe said. "Everyone needs food for the holidays of course. So typically we stay busy a week or two before any holiday, because people are preparing things." says, Ratcliffe.  This is to be expected, especially around Thanksgiving and Christmas, Ratcliffe added.
So, what's the average day during the holidays at Brookhaven like?
"Busy," said Lucas Chassin, 19, another Brookhaven employee who has worked at the store for several years. "Long lines, for hours at a time. It's tiring on a long shift but the shifts go by fast because there's no time for standing around. It also helps that we're generally well-staffed on the busiest days and most of the team does their job well."
Jason Toy, 30, has worked for Brookhaven for almost two years and serves as a front-end manager. It's Toy whose responsibilities and decisions most shape the day-to-day shopping experiences for customers.
"I'm in charge of counting drawers, putting together orders, I am also duty manager, which means I am in charge of closing the store 4 days out of the week,"  Toy explained. He added that he keeps the mindset of looking at the store's employees as a team, including the cooks, janitors, deli, baggers, stockers, etc., that works together and helps one another out."
Nevertheless, there are moments that aren't all sunshine and rainbows between-coworkers. Chassin says the workday can get hectic, and frustration can boil over like with any workplace, but in the end, the team mentality is key. "Sometimes confrontations will occur… but that is a rarity, considering we all get along, for the most part," says Chassin.
For others, like Ratcliffe, there doesn't seem to be that much of a problem"  All my coworkers are treated just like my family. Yes, some days may be stressful and we get aggravated at each other but at the end of the day we apologize and acknowledge what caused said problems." He exclaims.  Most of the staff reiterated that working in this pandemic hasn't much altered anything.
"It isn't very different than before the pandemic. Besides the wearing of masks and the plastic dividers, most of the customers are understanding and the employees are generally helpful," Chassin, explains. "Of course, there are the occasional few bad apples that need a bit more reminding on health repercussions."
Ratcliffe adds, "We ask some customers to wear masks, as it is an expectation in our store. They can get out of hand and situations may escalate. But nine times out of ten it gets resolved, then we just go about our day."