Girls Cross Country team running through a pandemic
Only a couple of sports in the state of Illinois were allowed to start back up this fall,  and one of those being girls cross country. The uncertainty around the world in 2020 due to COVID-19 was seen in all aspects of life, and here at Morton West High School, it was no different.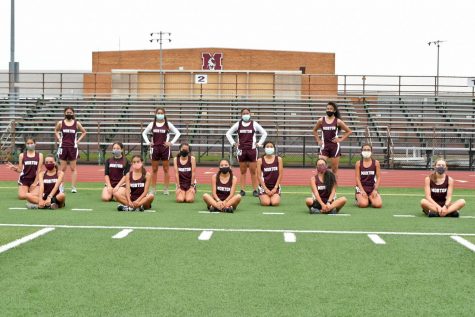 The Morton West Mustangs Girls Cross Country team led by Coach Daniel Bulster held a record of 2 wins and 3 losses. The Mustangs have faced great talent along the way like at powerhouse Downers Grove South (DGS) who constantly sends runners to the State meet and up and coming Oak Park-River Forest (OPRF). Although not being able to hold a runner's summer camp like previous years,  the Lady Mustangs have not let that affect them. Head girls Cross Country Coach and Special Education teacher Daniel Bulster said, "Like I said, usually we come to the season with a lot of training on us already, but this year, where it's almost like we're starting fresh. So I would say the workload has been less than usual and the goal is to get through the season healthy and happy". The Lady Mustangs have not skipped a beat, they did not allow a lack of preparation to affect their performances as they have already won two races against Proviso West and Addison Trail. Dena Ahmed '21,  a leader on the varsity team said,  "I feel as a team we have to work harder as we didn't have a camp to work out in the summer or really any way to run together as a team.  Even though sometimes it may feel like there is nothing to look forward to as we don't have plans for a postseason, as a team we have to work hard". Not knowing what the future holds,  certainly corresponds to all of the sports teams during this pandemic,  but this pandemic has not stopped the Lady Mustangs continued hard work day in and day out.
When the uncertainty of being able to hold a summer camp was determined this, led to speculation from the media that the Illinois High School Association (IHSA) was going to cancel fall sports and a whole. Nicole Ebsen, Athletic director at Morton 201  said "It has been challenging to get timely communication because we have to follow what the IHSA says and they are following with the IDPH and Governor's Office says. No matter what we are always waiting for this "chain of command" and that has delayed communication". The delayed communication from the governor's office is just one of many things the Lady Mustangs have had to overcome. Mask wearing and social distancing are a must during the races and practices for the cross country team. The Girl's Cross Country Team through all of these changes had to adapt to warming up with a mask on, and getting used to the new structure of the races. Compared to last year the races look very different and Coach Bulster said "This year, we have six feet apart between all the athletes on the line, and in many cases, they're actually more than six feet apart. So they maintain social distancing that way. The finish line, rather than having one common finish line where every athlete every school crosses, schools now have two finish lines separated". The IHSA spent weeks having to figure out the competition guidelines and structure of the races always thinking about the safety of the athletes.
The unfortunate circumstances that led to this odd season is something that has dawned upon those who are affected the most: the seniors. Seniors have to finish off their high school career this way and won't be able to truly experience competing to the fullest. Dena Ahmed '21 said, "It s..ks a little because there are some really big meets that I would've liked to run and experience with the team and we don't have an official sports awards night which is sort of like the grand finale of the season and a way to close off the season. That has saddened me that we won't have that final goodbye".   It's safe to say that seniors as a whole will have to adapt to this year being their last year in high school. The Lady Mustangs ended their season strong placing 3rd in Conference, 7 ladies ran at Regionals and 2 ladies qualified to Sectionals.