A Night at the Drive-In Talent Showcase 2020
Lights, Camera, Action! in a pandemic. On Friday afternoon, October 2nd,  the theater production group of Morton West High School, held its 27th annual showcase talent show.  Showcase originally takes in March but the event was canceled because COVID-19 was declared as a global pandemic.  Despite still being in a pandemic, the Morton West theatre department found a way to keep the show running.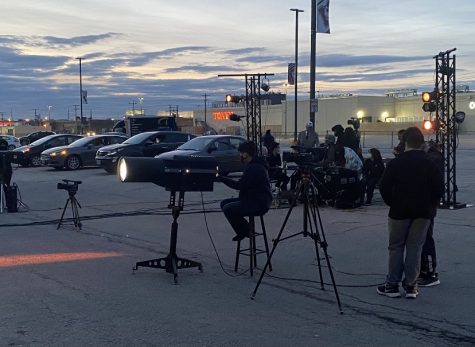 Janine Delmonico, Theater/English teacher at Morton West High School said,  "This has been an exciting, motivating, roller coaster ride of a show. Like usually showcase is pretty uneventful and the planning and production, but this is a little different from our friend Corona!" The event was held outside this year because Delmonico felt the event would be safer for everyone. The crew was projecting the show live so the audience parked in cars, in the parking lot's farthest back rows,  could see the show. Delmonico explained' the drive-in type show' idea came from a Facebook group. "You can only enter if you have a ticket, there are 32 car tickets, only 10 lawn tickets are available, the lawn tickets will be used for staff and students who are participating in the show. Since there is limited seating, we only gave the car tickets for the families of cast and crew following the show and the lawn seats were for the faculty and staff at Morton West". To ensure the safety of other people Delmonico explained that the cars in the parking lot were spread apart, so if people wanted to get out of their cars if they could, but they must be wearing their masks outside of the vehicle. The students in the show were spread far apart from each other, students were wearing masks even outside, performers were wiping down their microphones before they perform, and after they perform as well, and hand sanitizer was provided. Overall,  Delmonico said she is proud of the cast for being able to perform during these circumstances, and a huge amount of credit is given to the crew for being able to set up the stage and lights in less than 3 hours and take down the equipment when the show is over. Delmonico expressed gratitude that the department was able to start doing the things they love little by little again. "It's nice to be working with students again, you know Thursday ( October 1st) was our dress rehearsal, and I couldn't help but be in awe and starstruck by finally being back after being gone for so long!"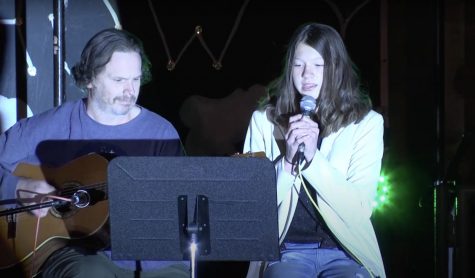 Two of the many performers of Showcase, Lexi Evans and Kaylee Price relayed their experiences, Lexi Evans '24  performed "Sweet But Psycho" with her father Jason Evans. Evans was very excited because it was her first time singing a solo act in front of a live audience, but Evans was glad that the crowd was in their cars where you can't see them. Evans is was a bit shy and overcame her fear of performing by showing her love for music and dance but was proud of herself because she is making the best she can of her freshman year experience even though the circumstances aren't the best right now.  Evans lives by this quote,   "Never give up and always look on the bright side," because she tends to negate any and all of the negativity in her life and always keeps going to strive in whatever she is achieving! 
Kaylee Price 21' performed "Make You Feel My Love," while playing the piano. "I'm pretty excited because this year's Showcase is a drive-in theme and it's different than in previous years. The way we're setting it up, I think, makes it super cool and it's just kind of more fun," says Price. Price explains she's grateful they can do an actual show and it's not a virtual show, "I think it's better in person because I think turnout will be better and the overall experience will be more fun. Virtual performances are fun and captivating, but there's just energy from a live performance that you can't recreate online." Price explained it wasn't difficult to practice during these safety precautions that were taken into place to ensure the safety of everyone involved in the show. Price said they were lucky enough to have the entire school's auditorium to space themselves out,  and everyone wore their masks the entire time. "I like to remind myself that what I do now won't matter in the future. I say that as a way to reassure myself that it's okay to mess up and it won't impact me in the long run. I always strive to do my best, but nobody is perfect and we all mess up sometimes, so I just tell myself that if I mess up it won't matter in a year or two years or five. All I can do is acknowledge my mistake, accept it, and move forward. Doing so helps me maintain a positive attitude, keep my head up, and stop me from dwelling on or obsessing over any past mistakes."   Although this isn't how Price imagined her Senior year to be,  she is making the most out of it and is glad that things are starting to look up, and she is super excited to get back into normal routines.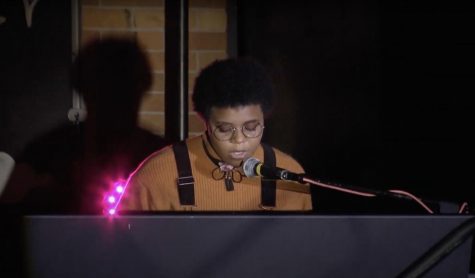 At the end of the show, Delmonico said,  "Thank you to all the families of the students who participated in this crazy, new, exciting event. Thank you to the Director of Fine Arts, Ricardo Garcia, Morton West Principal Kristina Cavanaugh, Morton West Assistant Principal of the Freshman Academy, Matt Dugan, Morton West Video Teacher, Robert Moriarty, for working through all of the COVID related issues. Thank you to the District 201 Board Of Education and District Superintendent Dr. Timothy Truesdale. Lastly, thank you to Mom, Billy, Carli, Leyna, Dave, Johnny Mo, Morton Maintenance, Security, MTA, and Mike Battistoni. Your support and dedication to our Morton West theatre students are greatly appreciated. #MortonPride #OrgulloMorton." Delmonico added she expects to deliver other theater events in the school year as well.