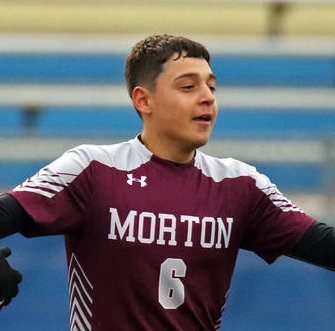 It's been an amazing journey, and it's not over yet.  Morton's Varsity soccer team defeated St. Ignatius in the Sectional Semi-finals, with Giovanni Alvarez scoring all three goals with a final score of 3-0.
On Friday, with a record of 20-3-2, Morton went on to play Sectionals against Hinsdale Central, who also scored 3-0 in its Sectional Semi-finals. Alvarez and a teammate scored two early goals and finished the game with a score of 2-1.  When Suburban Life questioned Coach Bageanis about how he prepares his player, he noted that, "It's really not much more than keeping it simple."  Coach B. also noted that the players "really communicate well."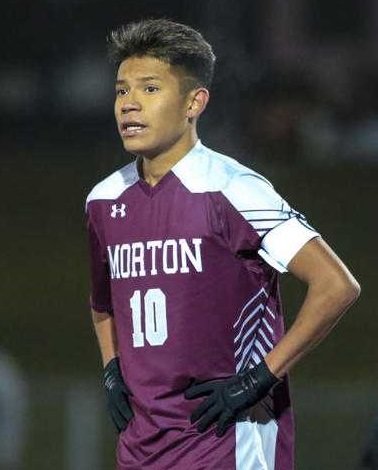 The team then traveled to Romeoville to play the Super-Sectional against Naperville North.  The nail-biter of a game ended in a tie, and when there was no scoring in overtime, four players on each team attempted to score with penalty kicks. Player Saul Juarez kicked the winning penalty shot, bringing the ultimate score to 4-3 and breaking North's 25 playoff game winning streak.  According to Suburban Life, Naperville North's Coach Konrad had this to say about the loss:  "I have to say that if it had to end, I'm glad it ended to someone like Morton, a program that we have such a great friendly rivalry with," he said. "The kids respect each other; the coach is an amazing guy and the program is fantastic."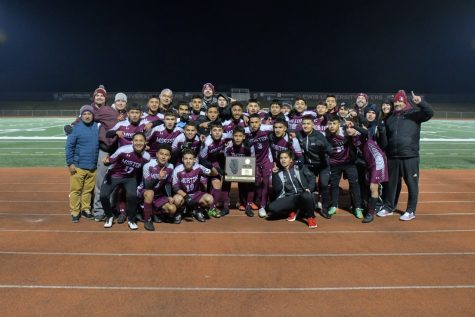 Morton will be playing the State Final against St. Patrick's on November 8th.
The Sterling was able to sit down with sophomore Gio Alvarez, one of Varsity's top scorers, and ask him a few questions.
What other players assisted you in your hat trick goals?
Edwin Zizumbo assisted my second and third goals.
What was the most stressful part of Friday's game?
I think the most stressful part was being a 2-0 lead at the end of the first half.  In soccer, having   a 2-0 lead is the worst because the other team can counter and enough power to come back.
How are you and the other players preparing for the game?
Well, first we start off with our warm ups before the game, but we always make sure we stay concentrated.  If we lose any type of focus in any game then anything can happen. We just kept our heads and knew what we were going for: a win.
Which professional soccer player or team do you follow?
I personally don't have a favorite soccer player, but I like players like Ronaldo, Messi, and Neymar.  All those types of players just inspire me very much.
In your opinion, what is one crucial characteristic that all good soccer players possess?
I think every single one of our players works hard, and most teams we play against have talent.  We work hard every single practice, and we work hard in the game because hard work always beats talent.
Would you consider playing soccer as a professional career?
Actually yes I will, but I want to go to school for a backup, because soccer isn't going to cover my life forever.  I want to study something in college, so if soccer doesn't workout I got a backup.