Memories of Laramie, Wyoming
Author Lesléa Newman travels from New York to Morton West to share her poems about Matthew Shepard's tragedy and legacy.
October Mourning by Lesléa Newman is a book of poetry related to Matthew Shepard's murder and the subsequent trials of the perpetrators, who were charged with a hate crime because of suspicion that Shepard was targeted because he was gay.   As a way of coping with such chaos, Newman wrote this book of poems that are from many different perspectives of those involved directly or indirectly with the tragedy.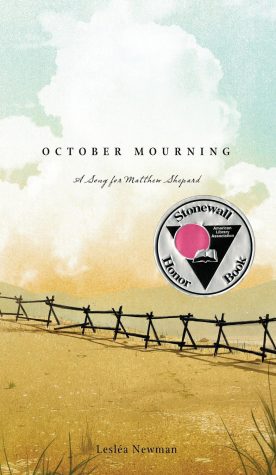 On Wednesday, April 10th, Ms. Newman presented to Ms. DelMonico's, Ms. Holmlund's and Ms. Peknik's Theater and English classes.  Newman began her workshop by reading poems from her book, which were fictional accounts of what different people and even objects may have felt about the incident and what they witnessed concerning the tragedy.
Newman then asked the group of students to do an exercise:  she asked everyone to put their feet on the floor and close their eyes, imagining a world without hate or intolerance.  Each student was asked to think of one thing that he or she could do every day to make the world a better place.
Newman ended her visit with questions from the audience.  Her book has helped many not only cope with Shepard's tragedy, but has also helped keep the landmark case in the public eye.  Each student was given a copy of October Mourning, with the author visit and books funded by Title I.