Elenia Marroquin, Ready To Take Charge
Marroquin is an enthusiastic member of Junior State of America (JSA) and loves talking about controversial issues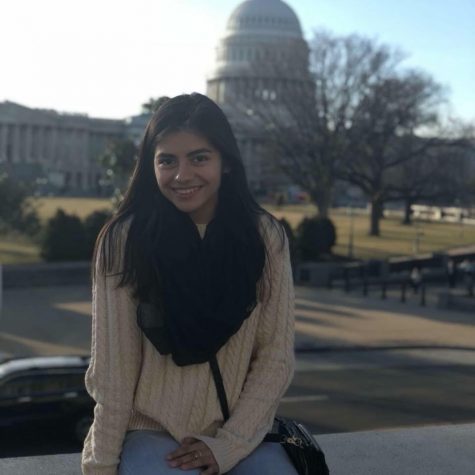 Hang on for a minute...we're trying to find some more stories you might like.
Q1: What got you into politics?
A: "My passion for politics began in 7th grade when my social studies teacher, Mr. Smith introduced the functions of government. My social studies teacher manifested that politics is not simply a corrupt game but rather a form of how to foster change in a world that perpetually evolves. Ever since that moment, I was absolutely enthralled because I feel that as a politician, I can make the direct impact that I aspire to do whether it be reforming the education system or decreasing the unemployment rate."
Q2: What kind of events does JSA do?
A: "Junior State of America pushes civic engagement, but activism is critical to the organization as well. We volunteer at the North Berwyn Park District, Democratic Citizens of Berwyn, and various churches, just to name a few. We also have three major conventions during the school year: Fall State in Madison, Wisconsin, Winter Congress in Washington D.C., and Spring State in Schaumburg, Illinois. At these conventions, we gather with schools (chapters) across the Midwest region to debate and discuss U.S. and international issues."
Q3: Do you have officers within JSA?
A: "Yes, there are a total of nine positions: president, vice president, director of debates, secretary, chief of staff, activism, fundraising, director of publicity, and treasurer."
Q4: How does it feel to be head of this club?
A: "As president of the Morton West JSA chapter, I always have to be on move since I hold myself accountable for eight other positions. I plan the agenda for how the school year will look and do what it takes to get the job done. Various issues always come up, but it is important to deal with such dilemmas with strong character and to keep solidarity. Being the head of JSA does not feel like work since my fervor for this student-run organization and my chapter overwhelming surpasses any predicament I have faced or will face in my presidency."
Q5: Do you think it is important to educate students on politics?
A: "I believe that it is more than important to educate other students on politics because too often, students underestimate the impact that their own senators, representatives, governor, and others can have on them. There is more to politics than to simply legalize marijuana. Students forget that we are in a democracy and that means that they have a voice to assertively state their beliefs. Students need to be informed and educated so that there is a form of guidance to when they want to ameliorate their community."
Q6: What has JSA taught you?
A: "JSA has taught me several skills from public speaking to becoming more open-minded. The one main facet that I have learned from JSA is that compromise is key. In our political era, compromise is what we need most. Personal differences need to be set aside to prevent the downfall of this nation."
Q7: How does it feel to be president for NHS?
A: "As president of the National Honor Society, I feel that I must represent the four pillars of leadership, scholarship, service, and character. Oftentimes, NHS is simply looked at as a club to put on applications or that it is just another service club. The service aspect has outweighed and put the other three pillars in the dark. I want to step it up this year and push leadership, scholarship, and character. Fortunately, we were able to conduct a leadership conference that included 8th graders from Heritage, Freedom, Lincoln, and George Washington and opened the conference to NHS members to give them the opportunity to convey their leadership skills among those who are still growing into young leaders. We have been working on other ways to step up the scholarship aspect, such as providing the opportunity for any student to acquire help from NHS members during the intervention time."
Q8: Is it hard to keep track of NHS and JSA?
A: "There certainly is a degree of difficulty in balancing both positions, and it can be quite stressful. At times, dates can clash, but I expected that to happen. Presence is key to me, so even if it is a JSA event one day and NHS the next, I will be there. Fortunately, both of my teams are fairly understanding that I hold double to responsibility, and I hold myself accountable for when there are bumps in the road. I do what I can to run both positions smoothly and confidently, and the skills that I have gained from both positions intertwine beautifully."
Q9: Why did you want to be president?
A: "I felt that I was qualified for both positions. I have been in JSA since my freshman year, and I served as the chief of staff my junior year, so I had the experience of working next to the former president. As for NHS, I have maintained my position in Summa Cum Laude and have served my community well ever since I was four years of age. I had several ideas for the upcoming year that I could not swallow, so I ran."
Q10: Do you think NHS has impacted the community?
A: "As mentioned before, NHS's pillar of service has dominated any of the other pillars. We have volunteered at YMCA events, North Berwyn Park District, Oktoberfest, Morton itself, and several others. We were invited to volunteer again for next year's Oktoberfest, and we serve with open hands. One of the most heartfelt facets would be that my officers and I have NHS members that volunteer outside of the opportunities that we provide them, such as the hospital or zoo."
Q11: What does it mean to be an NHS member?
A: "Being an NHS member means that you were chosen to represent Morton West and the community in an honorable way. You must maintain your scholarship by doing well in school and complete tutoring hours. You must maintain your leadership as responsibilities of the members will not go unnoticed. You must maintain your service as we require a total of 40 hours to be done by the end of the school year. You must maintain character as that is often the overlooked pillar because that is not under the control of my officers and me. Being part of NHS is more than simply another club you can put on your college applications."
Q12: When the year ends, what is something you want the members to leave with?
A: "I want the members to always remind themselves to be humble and to remind themselves of the roots that they were built upon. I want them to take at least one thing they learned throughout the school year and apply it to their life, whether it be to diminish procrastination by getting their service hours in a manageable time instead of the last two weeks of April or to be diligent in their school work. NHS is more than just being a service to the school and the community. You are molding your character and leadership qualities to be of aid when you get into the real world."