Homecoming Door Decorating
Three teachers' doors came out with top honors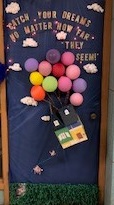 Hang on for a minute...we're trying to find some more stories you might like.
Excitement was in the air as students decided to decorate their classroom doors for the Homecoming Door Decorating Contest.  Disney was the theme this year, so decorators derived inspiration from a multitude of Pixar movies and characters.  One popular football movie is entitled Remember the Titans, and Mr. Moore's class decided to turn their door into a stadium complete with football players, the school band, and Morty, everyone's favorite mascot.  Moore's door won third place.
Some Spanish classes decided to use the recently released movie Coco to plaster their door with Day of the Dead skulls and colorful flower decorations.  Ms. Garcia's class celebrated Novemberwon second place.
Finally, the audience favorite Pixar movie Up was used as the 3-D display for Ms. Hughes door.  Her seniors used real balloons and cottony clouds to pay tribute to the house that flew in the air to its new place.  Ms. Hughes class won a pizza party that definitely made their efforts worth every piece of pepperoni.